I am kind of a Schnitzel snob, having grown up in Germany and having tasted my way through a ton of 'German restaurants' in the USA. This one is really THE BEST and that Jägersoße SO GOOD!
This Is A Sponsored Post That Contains Affiliate Links
What is Schnitzel?
Schnitzel is a thinly pounded piece of meat (I used boneless pork chops), breaded and pan-fried to golden perfection. Served simply with fresh lemon slices to squeeze over the meat, it is great the way it is! However, I decided also to make a Jägersoße (hunter sauce in English), an irresistible, creamy mushroom sauce. While Jägersoße is not always creamy, I prefer it that way and have been hunting (no pun intended) for the perfect recipe for years. And I finally perfected it! Dip your Schnitzel, dip your fries (homemade fries if you want to have a go at it!), and eat the yummy sauce on its own. This is my favorite way to eat Schnitzel and you have to try it if you're a mushroom fan like me! And I have even convinced some mushroom skeptics out there. I usually purchase my mushrooms at Whole Foods because I love their variety. Costco also carries the same Mushroom Chef's Sampler for less. But the best local mushrooms I buy from Dragonfly Farms at the Overland Park Farmers Market! They're amazing!!
Jägerschnitzel Video
Wiener Schnitzel or Schnitzel Wiener Art?
I prefer a Schnitzel made from pork as most Germans eat it. You will also find many German restaurants serving Wiener Schnitzel (said to be from Vienna). That is a term designated only for Schnitzel made from veal. Schnitzel made from pork or even chicken is called Schnitzel Wiener Art, meaning 'in the Vienna way' or just Schweineschnitzel (pork Schnitzel) or Hühnerschnitzel (chicken Schnitzel). If you top your Schnitzel with Jägersoße as I did, you call it a Jägerschnitzel. Makes sense, right? I also have a couple of other Schnitzel recipes on the blog you should not miss out on trying.
The Zigeunerschnitzel translates to gypsy schnitzel. It's unbreaded and in a pepper sauce and it's so good!

A Schnitzel sandwich inspired by the one our local Austrian restaurant Grünauer makes! Addictive!

Chicken Schnitzel Hawaii is my supper cheesy invention with ham and cheese and believe me, it's amazing!
The Breading Is Optional
Some people are convinced that Schnitzel served with Jägersoße needs no breading. I beg to differ. In my opinion, breading always wins. In cases like my Zigeunerschnitzel and Chicken Schnitzel Hawaii recipes, I would say that because the sauce is so spiced and flavorful, the breading is not needed. BUT this Jägersoße is everything and this Schnitzel is better with breading. Try it without breading or with, but I promise you'll miss it if you don't.
Ingredients
Pork chops. I use boneless, animal welfare verified pork chops and trim off any excess fat. If they're thick, I cut them in half lengthwise.
Flour. I use AP flour. This is for the first layer of pork breading and helps create that bubbly breading.
Eggs. The whole egg. About 1 per person. This is the second layer of breading.
Bread crumbs. Just regular old breadcrumbs. No pun intended. I have even chopped old, dry bread in a food processor to make my own before. This is the last layer of breading.
Oil for frying. I use avocado oil or canola oil. You can use any high-heat oil you would like. You'll want your Schnitzel swimming in it and will heat to around 330 degrees Fahrenheit (165 degrees Celsius) for the optimal frying temperature.
Parsley. For garnish. I grow it in my garden in the summer or have it on the windowsill in the winter.
Lemon. Fresh lemon to squeeze over the schnitzel. Optional if you're also making a sauce, but I still like it either way for that refreshing note.
Mushrooms. I like a nice blend of flavorful mushrooms. I buy mine at Whole Foods or Costco or our local mushroom man (he is awesome and sells at our farmer's market).
Shallot. It gives the sauce that special something. Don't have one on hand? Use one clove of garlic.
Brandy. It really helps to round out the sauce. No worries, I only use a little and the alcohol cooks out. So good!
Cream. Don't be shy about it! The cream makes this sauce so rich and delicious!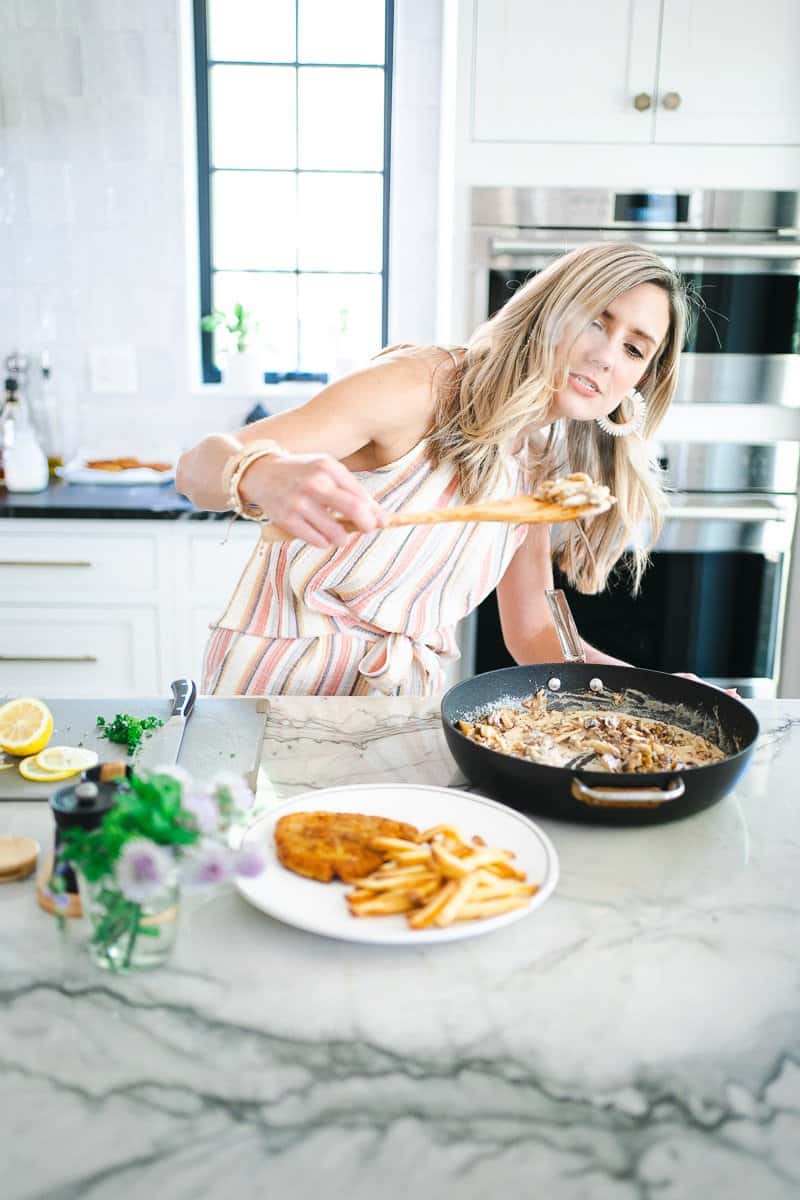 Tools
Meat Hammer. To pound those pork chops extra thin. And when I say thin, I mean THIN! Make sure you're using the flat side and not the spikey side of your mallet.
Large Frying Pan. And by that, I mean extra-large. I love this one!
Tongs. Don't have kitchen tongs yet? Time to get some. I also use them to help me bread, which is a lot less messy.
Frying Thermometer (Optional). Have trouble with burning your Schnitzel? The ideal frying temperature is 330 degrees Fahrenheit (165 degrees Celsius). Because you're frying in a shallow pan, I would recommend using the instant-read thermometer below and periodically checking with it. It's the best!
Instant Read Thermometer. Unsure about whether your Schnitzel has reached an internal temp of 145 degrees Fahrenheit (63 degrees Celsius), use an instant-read thermometer. I have used this one for quite a while now and LOVE it. The best one on the market.
Sponsored Content and Affiliate Links Disclosure
Although this post is sponsored, all opinions, thoughts and recipes are my own. This post contains affiliate links, which means that I may be compensated if you click certain links.
The BEST Schnitzel with Mushroom Sauce (Jägerschnitzel)
I am kind of a Schnitzel snob, having grown up in Germany and having tasted my way through a ton of 'German restaurants' in the USA. This one is really THE BEST and that Jägersoße SO GOOD!
Servings: 2 people
Calories: 903kcal
Schnitzel
2

boneless pork chops

60

grams

flour

2

eggs

whisked and seasoned with salt and pepper

60

grams

breadcrumbs

frying oil

I use avocado or canola oil

salt and pepper

lemon

for garnish

parsley

for garnish
Jägersoße (Creamy Mushroom Sauce)
½

Tablespoon

frying oil

½

Tablespoon

butter

to get that butter flavor without burning the Schnitzel

100

grams

mushrooms

I like a nice assortment, use whichever you like

40

milliliters

brandy

200

milliliters

heavy cream

2

cloves

garlic

or 1 shallot

salt and pepper
Jägersose
Cut up mushrooms into thin slices.

100 grams mushrooms

In a large frying pan, heat ½ tablespoon of butter and ½ tablespoon of vegetable oil over medium-high heat until butter is melted. This the smoke point of the butter, while still retaining increases butter flavor.

½ Tablespoon butter, ½ Tablespoon frying oil

Add mushrooms, season with salt and pepper, and sauté until crisped, about 10 minutes. Stir occasonally, but not too much.

Add garlic and sauté for another minute. Add brandy and let cook for another minute.

40 milliliters brandy, 2 cloves garlic

Add heavy whipping cream and let boil until thickened to sauce consistency. Season to taste with salt and pepper, then keep warm until ready to serve.

200 milliliters heavy cream, salt and pepper
Schnitzel
Depending on thickness of your pork chop, you may butterfly or cut in half lengthwise to start with.

2 boneless pork chops

I like to add my pork to a gallon size freezer bag, then pound it with the flat side of a meat hammer. If you don't have a plastic bag, you can use a bottom and top piece of parchment paper or plastic wrap. Now flatten out the piece of meat until it reaches about quarter inch thickness (I like mine ultra thin). Season meat on both sides with salt and pepper.

salt and pepper

Cover a large frying pan in a ½ inch layer of frying oil and heat to medium high heat. If using a thermometer, you want your temperature to reach 330 degrees Fahrenheit or 165 degrees Celsius).

frying oil

In the meantime, cover your thinned out meat in flour and shake off any excess flour. I like using a pair of kitchen tongs for this process, making it a lot less messy.

60 grams flour

Then cover in egg and let drip off any excess egg.

2 eggs

Lastly, cover in bread crumbs. You can prep the meat by breading it ahead of time and then refrigerating it until ready to fry.

60 grams breadcrumbs

Add meat to your frying pan and cook on both sides until golden crisp. The internal temperature should read at least 145 degrees Fahrenheit or 63 degrees Celsius) Dry off on paper towels and immediately serve garnished with fresh lemon slices (optional if serving with sauce) and fresh parsley. You can also keep your Schnitzel warm in the oven at 150 degrees Fahrenheit (65 degrees Celsius) until ready to serve.

lemon, parsley

Pour mushroom sauce over the Schnitzel and serve with fries or spätzle and a green salad or a cucumber salad.
Always use the flat side of your meat hammer/tenderizer when making Schnitzel! That side is to thin out meats, the other is to tenderize.
Breading is totally optional if serving your Schnitzel with sauce, but I LOVE IT and 200% recommend it, especially for Jägersoße, the creamy mushroom sauce.
You could use veal for a traditional Wiener schnitzel, but I prefer making mine with pork (making this a Schnitzel Wiener Art). Especially after getting a crooked look from a Whole Food employee the last time I requested veal meat and they told me they don't sell it because it's baby cow. Way to make me feel yucky about it.
Calories: 903kcal | Carbohydrates: 50g | Protein: 46g | Fat: 52g | Saturated Fat: 28g | Polyunsaturated Fat: 4g | Monnounsaturated Fat: 15thg | Trans Fat: 1g | Cholesterol: 367mg | Sodium: 377mg | Potassium: 918mg | Fiber: 3g | Sugar: 6g | Vitamin A: 1722IU | Vitamin C: 3mg | Calcium: 167mg | Iron: 5mg