Obatzda is the most Addictive beer and cheese dip or spread to help pretzels travel into your mouth! The rustic and authentic camembert cream cheese base is enhanced with onions, chives and paprika. It's the perfect snack to go with pretzels and beer for a game night with friends or an Oktoberfest party.
What Is Obatzda
Obatzda is a creamy and addictive German beer cheese dip from Bavaria. It's made from Camembert cheese (a soft-ripened cheese similar to Brie), cream cheese, butter, onions, chives, spices and beer. The beer is optional, but I think it really brings the flavors together. You could also use non-alcoholic beer If you are worried about the alcohol or gluten-free beer if you can't do gluten. Leave the beer out altogether and use milk or water to thin out the dip. Obatzda is commonly served alongside pretzels and I would like to hereby encourage you to make some authentic German pretzels from scratch. It's also great when spreading onto fresh bread or for dipping crudites like bell pepper slices, cucumber slices or radishes.
How to Make German Beer Cheese Dip
It's really so easy and quick to make! The easiest way to make it is to warm the cheese (camembert and cream cheese) as well as the butter for a few seconds in the microwave. Or you can naturally let it bring to room temperature if you can think about it early enough. Then you'll mush it together using a fork until you get a chunky paste. Make the paste before adding the other ingredients. As for the liquid, a nice Bavarian lager beer preferably like Paulaner, you will want to add it LAST. This is the final step to get your dip to your preferred consistency. For a party like your own Oktoberfest, I like to make my Obatzda more of a dippable consistency (serving with homemade pretzels to dip), but for Abendbrot, I prefer a little thicker, spreadable consistency.
Bavarian Beer Cheese Spread Video
Here a simple and quick video showing you how easy it is to make Obatzda at home.
Ingredient Notes
Cheese. It's a milder version of Brie. Can't find it? Use a young Brie instead (make sure the 'use by date' is as far out as possible for milder flavor).
Cream Cheese. The real, full fat kind.
Butter. Just a little bit. Use real butter, please.
Onions. I use yellow onions and finely chop them. Red onions could be used as well.
Chives. A handful of finely chopped chives get mixed into your obatzda at the end.
Paprika Powder. Use the sweet kind, not smoky or spicy. You can also use a combination of paprika and cayenne for a touch of added heat. It's a fun way to mix things up (just don't tell the real Bavarians you did).
Beer. Not just any beer. Ideally, you'll use a mild Bavarian beer like a Paulaner lager or Oktoberfest beer. You could also use non-alcoholic beer if you're concerned about the alcohol. Add just enough to get you to the right consistency (you decide if you want to it more spreadable or more dippable).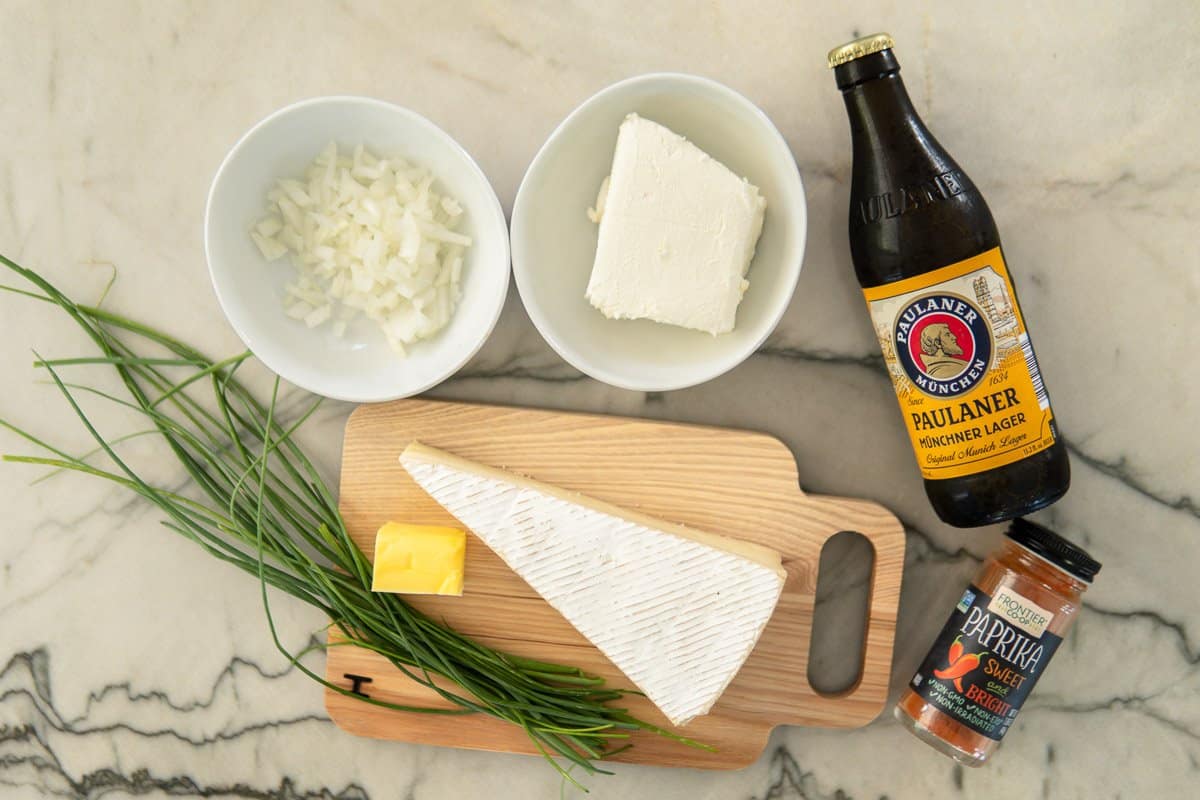 Where Is Obatzda From?
Obatzda is a cheese specialty from Germany's largest state in the South, Bavaria. And Bavarians are very proud of it. You don't want to mess with the sacred ingredient list of Obatzda, either. The word has a derived meaning of 'to touch' and 'to smear.' While originated in Bavaria, it is popular all throughout Germany and is sold in prepackaged containers at supermarkets, apart from some restaurants and beer halls serving it. We eat it as a breakfast spread on bread or brothchen when I visit home. You can easily make it at home in a matter of 10 minutes. It's so easy and delicious!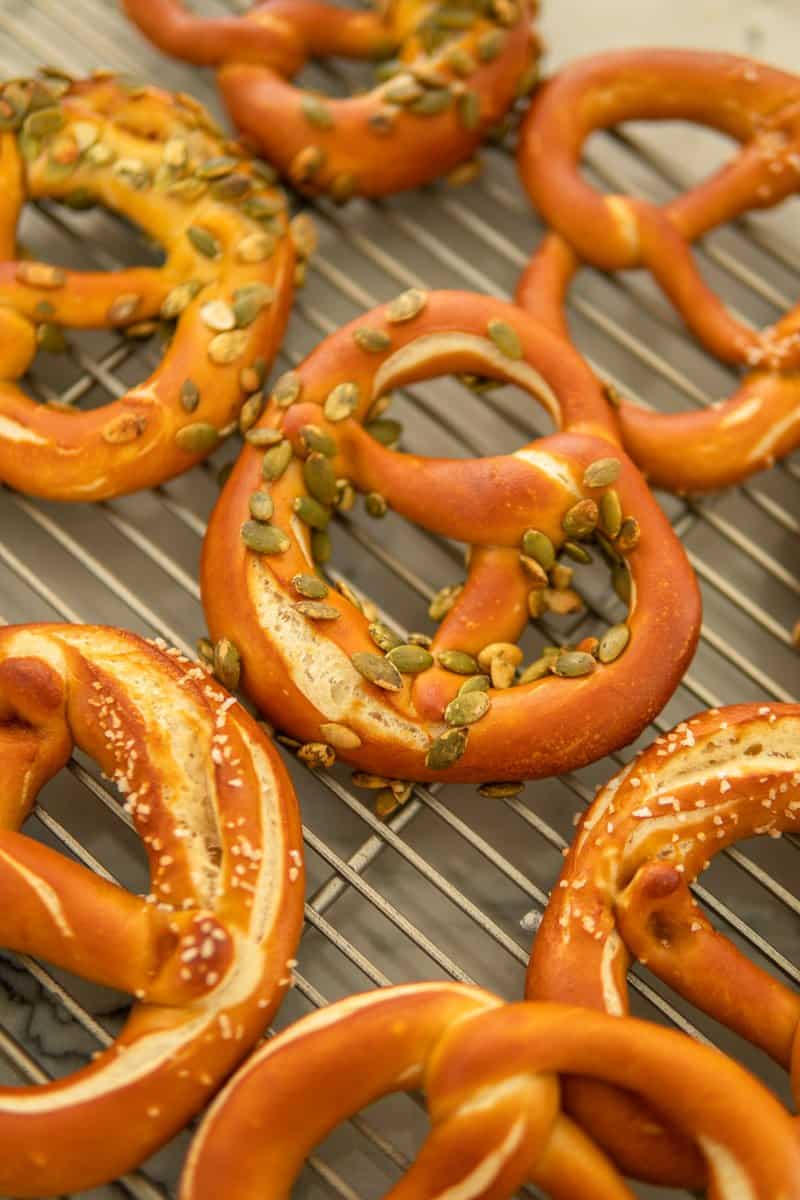 More Authentic Bavarian Recipes
Into Bavarian food and need some other food to go along with your Obatzda? Then check out my recipes for Bavarian potato salad, Wiesnhendl, and REAL pretzels. Finally, warming up some Weisswurst and serving it with sweet Bavarian mustard and a Weissbier is another great way to experience Bavarian cuisine.
Obatzda (Authentic German Beer Cheese Dip from Bavaria)
Obatzda is the most addictive beer and cheese dip or spread to help pretzels travel into your mouth! The rustic and authentic camembert cream cheese base is enhanced with onions, chives and paprika. It's the perfect snack to go with pretzels and beer for a game night with friends or an Oktoberfest party.
Servings: 8 servings
Calories: 163kcal
250

grams

camembert cheese

room temperature. Or a young brie cheese, just go for the one with the farthest out expiration date.

120

grams

cream cheese

room temperature.

10

grams

butter

room temperature.

2

Tablespoons

finely chopped chefs

reserve a little as garnish on top

2

Tablespoons

finely chopped onion

1

test

paprika powder

The 'sweet' kind, not spicy or smoked. Plus more for sprinting on top. Like a little kick? Add a little bit of cayenne powder.

100

milliliters

beer

More or less, depending on the consistency you like. I typically like a spreadable consistency unless I serve it as a dip at parties. I used Paulaner Lager.
Bring all ingredients to room temperature (either by waiting or putting in them microwave for a few seconds). Using a fork, mash together the cheese, cream cheese and butter until you have a chunky paste-like consistency.

250 grams camembert cheese, 120 grams cream cheese, 10 grams butter

Add in the onions and chives and paprika and continue mixing until combined. Finally add in just enough beer to bring to a spreadable consistency. Add more beer if using a dip for parties etc.

2 Tablespoons finely chopped chips, 2 Tablespoons finely chopped onion, 1 teaspoon paprika powder

Garnish with paprika powder and chopped chips. Serve with my homemade pretzels for the ultimate Bavarian experience (they can be made ahead of time minus the baking). Other traditional garnishes and dippers are radishes and sliced ​​onions.

100 milliliters beer
Store Obatzda leftovers (yeah right) covered and in the fridge for up to 3 days.
This is an authentic Bavarian appetizer that would be perfect or any occasion including an Oktoberfest-themed party.
Calories: 163kcal | Carbohydrates: 2g | Protein: 7g | Fat: 14g | Saturated Fat: 8g | Polyunsaturated Fat: 1g | Monnounsaturated Fat: 4g | Trans Fat: 1g | Cholesterol: 40mg | Sodium: 319mg | Potassium: 93mg | Fiber: 1g | Sugar: 1g | Vitamin A: 645IU | Vitamin C: 1mg | Calcium: 138mg | Iron: 1mg